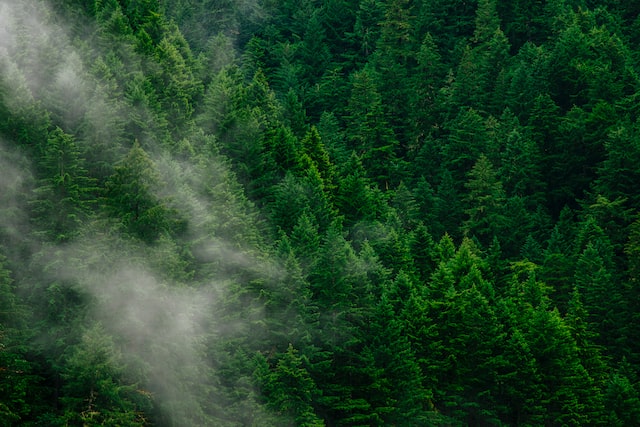 Published originally by Strata Policy: Sept. 17, 2019
Archived: Sept. 19, 2020
Photo by Andrew Coelho on Unsplash
By Kabeia Rineaki Brock Sutton Allen
ABSTRACT
Described as being "made from several layers of dried lumber boards stacked in alternating directions, glued and pressed to form rectangular panels," Cross Laminated Timber (CLT) – the most popular variant of the Mass Timber construction process – promises to not only provide an outlet for potential wildfire fuel but also reduce housing shortages.1 To take advantage of CLT, Oregon approved the unprecedented twelve-story all-wood Framework project in 20172 and passed a building code titled the Statewide Alternate Method in August 2018.3
THE PROBLEM
Oregon suffers from a shortage of housing and an excess of wildfire-prone forest lands. In 2016, Oregon Housing and Community Services Director Margaret Van Vliet warned that the state has 130,000 extremely low-income households, with only 20,000 affordable housing units that are available for those households.4 Additionally, dry conditions and an excess of wildfire fuel in the state and federal forests is prompting forest managers to experiment with new ways to manage forests. With $2 billion spent by the U.S. Forest Service (USFS) during the 2017 wildfire season to fight over 50 large fires on over 411,000 burning acres, land managers have concluded that at least half a million acres of forest in Region 6 are in need of thinning and prescribed burns.5 At the root of these separate issues – a shortage of housing and an excess of wildfire fuel – lies the opportunity for the resolution of both; something not wasted on Oregon policymakers.
THE STATE'S EXPERIMENT
The August 2018 introduction of a new Statewide Alternate Method (SAM) by the Oregon Building Codes Division now allows for the construction of three new types of tall wood buildings, making the state the first "to allow construction of wood buildings taller than six stories without special consideration."6 In a University of California Natural Reserve System (UCNRS) study of mass timber in California, Sandra Lupien noted:
"In the U.S. we're always in a race to third. No investor, no developer, wants to be first. The same is true for designers and especially structural engineers. They don't want to do the new thing until it's thoroughly proven, and until it's really easy for them."7
Capitalizing on the visible and tactile appeal of wood, Australian, Canadian, and European architects were the first to embrace hybrid of rustic warmth and innovation that mass timber offered.8 Initially pushed by government initiatives like London's carbon tax and research showing that traditional materials like cement are responsible for 8% of the world's emissions, demand for greener construction methods was sparked.9 Not only does wood naturally sequester carbon, but the replacement of CLT for steel could cut those emissions by 15-20%.10 Additionally, market analysis by the Beck Group shows that mass timber promises to enhance if not outright improve most aspects of construction including total project cost, reduced skilled labor requirements, seismic performance, fire performance, blast performance, aesthetics and livability, and environmental impact.11 Specifically, being able to prefabricate with mass timber offsite offers increased onsite efficiency, higher quality control, decreased waste, and greater design possibilities including modular units.12 In fact, the CLT industry is projected to be worth more than $2 billion by 2025.13
While other states may have previously expressed interest in mass timber, it is Oregon that has made the first successful bid to become the American (if not international) hub of such a potentially lucrative industry.14 Oregon's immediate use for CLT, however, is one born initially of desperation rather than profit. With overgrown forests leading to record breaking wildfires, the SAM allows for market incentives for the prescribed thinning of wood from trees that would have normally been left behind due to their small size.15 At the Pacific NorthWest Economic Region 2018 Summit, U.S. Forest Service (USFS) Chief Vicki Christiansen presented mass timber as one of the key methods of "forest product delivery" for the "small diameter trees that we must remove to improve forest conditions."16 Her co-speaker and industry expert Fritz Wolff added that this surge of available resources would have the added benefit of reducing housing construction costs.17
This would be a welcome sight in most major metropolitan centers but especially in Oregon where the number of extremely low-income households is over six-times the size of available affordable housing units.18 Described by Chief Christiansen, this effect would then compound:
"We can use new opportunities for forest product delivery to help us to improve forest conditions, while also creating jobs and sustaining rural communities. We can implement these new practices by working together and being a good neighbor."19
What this means is that Oregon has the opportunity to shed its excess wood to be used in mass timber for construction in both commercial and residential buildings, providing potential homes and jobs.20Though the SAM can be viewed as merely the first of many steps to providing a boon in Oregon construction practices, it remains one of the most critical in unleashing market solutions for the housing shortage and forest management, while unlocking the possible ascendancy of the state in a developing industry.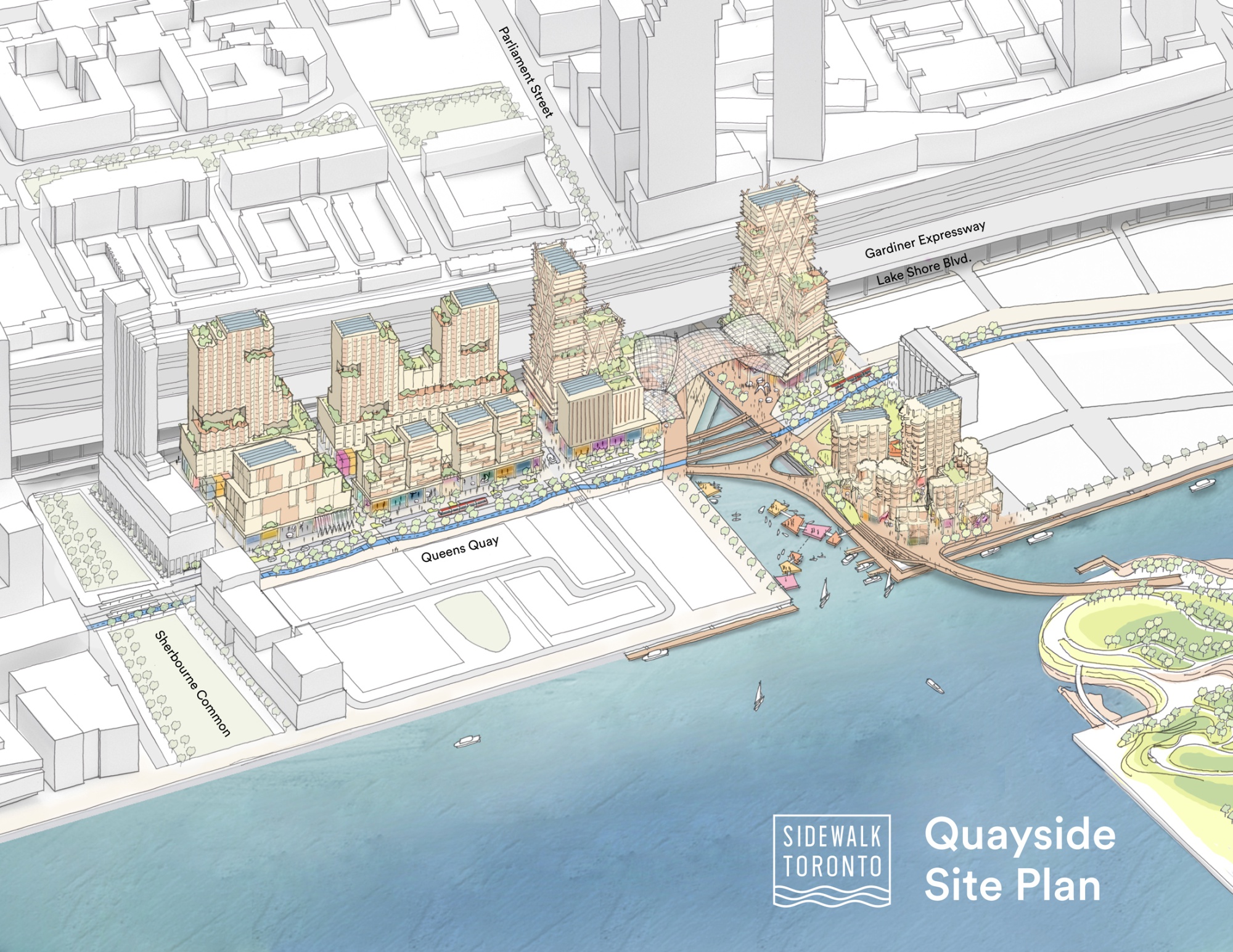 Site plan for the Sidewalk Labs community. Source: Sidewalk Labs
This simple step seems to have already inspired the announcement of similar forays into the market. Sidewalk Labs LLC's (an Alphabet Inc. unit) plans explicitly call for the use of timber in their building on Toronto's eastern waterfront.21 They are joined by structures by Neumann Monson Architects in Des Moines' East Village, Walmart's new 300 acre headquarter campus in Arkansas, and a record breaking 21 story high-rise in Milwaukee.22 While some of these projects may seem niche or artisanal, development within the industry shows little sign of slowing nationally. As the Forest Service reports:
"We are on the precipice of major momentum in the marketplace with mass timber, with four factories in production, including two making architectural grade CLT; five factories coming online (either under construction or just completed); and three more factories recently announced in eight states. Compounded with the upcoming code decisions, we expect to see many more mass timber and CLT buildings in the near future."23
CONCLUSION
For serious concerns like wildfires and homelessness, there is no single silver bullet, yet with CLT Oregon might at least improve both problems. Allowing and even encouraging new technologies are never without economic and political risk. But, Oregon is moving forward with innovative strategies. It will be interesting to see the results of this experiment.
Mass Timber by Kabeia Rineaki Brock Sutton...
Notes